Well, last week I thought I found the worst Devil Girl or Succubus costume of all time… I really must remember not to tempt fate too much because I've found something that is, really, worse still…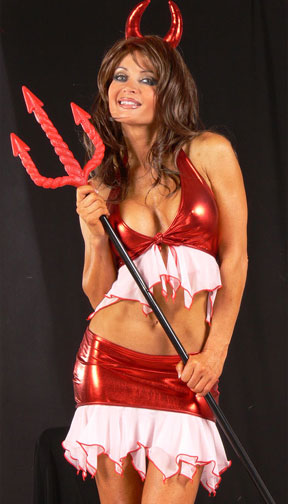 This is simply called Devil Costume, and, honestly, it must have been a struggle for whomever came up with the name to think after seeing it I think…
It comes with the tie front top, the skirt and the horns… Pitchfork not included and it sells for, and this is the thing that I can't believe the most, $75 US.
And they don't include a tail either.
Seriously? A couple of pieces of red stretch lame with some pink mesh stitched to it is worth that much?
I thoughts that I had seen some ripoff costumes in my search, but this one wins the prize for paying the most and getting the least.
Throw away the horns, and I would, they are so over the top that it's not funny, and what is left just is a lousy red dress with a terrible hem on it.
How can this be anything close to Succubus-like in all honesty? It's not sexy, it is shiny, but then that pink mesh destroys that, so why bother with it in the first place?
It's another example of having a costume which has nothing going for it, has nothing in it worth saving, and, truly should never be bought by anyone at the price they are selling it at…
I wouldn't wear it if you gave it to me for free.
Zero pitchforks out of five.
I really need to figure out another rating system…
Tera