There are costumes made of Spandex of course. Now some of those are really sexy and, honestly, that is the point of a Devil Girl or Succubus costume…
However, I do not quite see how this costume qualifies as being a "good" costume in all honesty…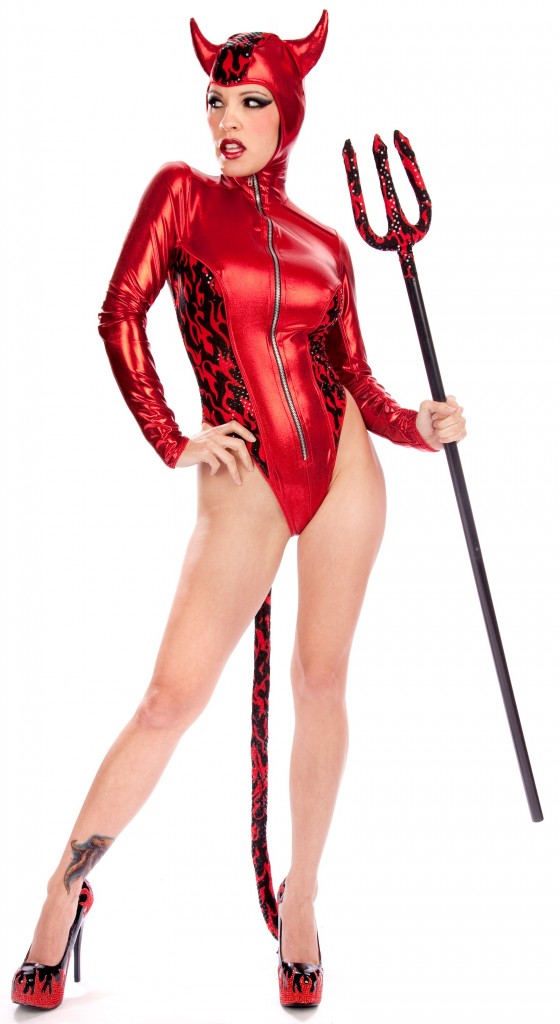 This is called the Toxic Fire Devil Costume and it comes with a one-piece liquid metal spandex suit with high cut sides, a zipper in front, and a flame pattern along the sides of the suit and the top of the attached hood, which the horns are attached to.
Now, everything else in the image here, the tail, the pitchfork and the shoes are separate to the main costume itself.
So, if you bought everything, and you kind of have to, it comes to a total of $350 US.
Now, it is a custom made costume which makes the cost of it make some sense, but there is so much not to like here I think…
Firstly, the zipper in the front… Why? It ruins the look of this outfit and honestly why it wasn't in the back is beyond me.
Don't care for the hood, looks ugly to me, especially that bit of flame on the forehead. The long sleeves also do nothing for me as well.
The tail is a long one at least, but that isn't much to say for the good in this idea. I like the shoes, but then I have seen them before and actually I have a pair that I bought last year because they really are wonderfully made. But again that alone can't save this costume for me.
I sort of like the pitchfork in a way, but there are of course better ones out there…
I don't think I can give this costume anything more than one and a half pitchforks out of five.
The accessories are better than the costume itself and that is troubling…
Tera