And so the first costume of 2013 arrives… And it is a doozy to be honest. I've looked at costumes that are expensive. I mean, 400 or 500 dollars for a costume? We've seen that a couple of times…
But this one wins the contest hands down.
The thing is, I can't quite understand why it does…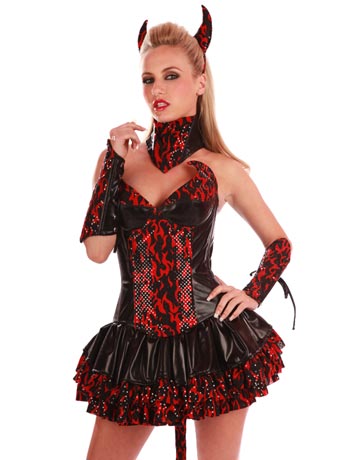 This is called the Fire Devil Costume and it comes with a corset, mini tutu, a pair of wrist bands, choker and set of devil horns.
And all of this costs $750 US.
Seriously.
And there is a tail as well, but that will set you back another $50…
So… $800 for this, and you don't get shoes or stockings or a pitchfork…
There is some of this I like, but there is so much more than I really don't like.
The choker is the first thing, that just looks wrong and never should have been made. The wrist bands… really don't like or dislike them honestly.
I like the corset and I admit that I like the mini-tutu as well, but I can't justify paying $800 for all of this…
And I have the worst feeling that the tail is going to be horrid and since you can't see it, save that it has the same pattern on it as the dress and horns do… I'm not sure I think I like that…
While the horns are a lot larger than I like, I have to admit that they aren't the worst I have seen, and, at least they match the rest of the costume, which really helps a lot…
In spite of the cost, which I think is nutty, I'll give this two and a half pitchforks out of five.
Cut the price in half, and I'd give it a four…
Tera