I think that I have found the absolute worst pair of Devil, and they aren't Succubi, horns… ever.
And that's saying a lot…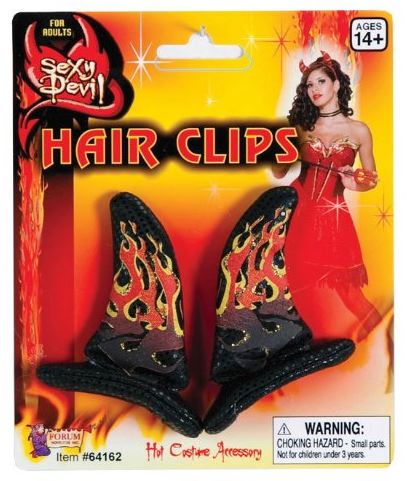 I have so many problems with this costume accessory that I don't honestly know where to start…
Well, it costs $5 US, and really it's not worth that much to me.
I hate the look, the flames on them look just awful, but what really gets me is the model on the package isn't wearing them!
I can't quite understand that, as, isn't the point of a picture on a package supposed to be to show you what this item would look like when you wear it?
I also can't help but laugh at the description on the bottom of the package that this is a "Hot Costume Accessory."
Maybe if I threw it into a fireplace or something, but otherwise it certainly isn't anything close to that…
I wouldn't be caught wearing these. Period.
Zero pitchforks out of five.
And that's being really generous I think…
Mind you, I would like to know more about that costume the model is wearing… That might have possibilities…
Tera