Disney characters should not be merged with other ideas… I mean, honestly, why would someone think something like that would be a good idea? Personally I don't think it is, and more so, I don't understand why it is that costume designers can't focus on one good idea…
…and make it good. This isn't.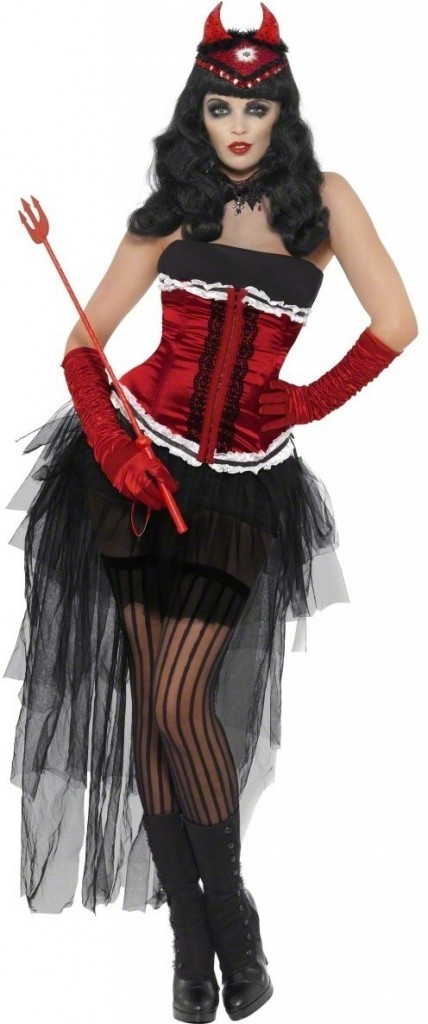 For some reason the first thing that comes to mind here is zombie mistake… but I'll get back to that a little later…
This costume is called the Diva Demonique De Vil Costume and it comes with, and this is where my problems with this start, only the corset, top and skirt. The horns, the gloves, the pitchfork, stockings and shoes are not included.
The costume alone sells for about $50 US and if you add the pitchfork, gloves and lousy horns to it, that would add another $30 US, and you still haven't a pair of shoes for it…
Now, since the costume doesn't come with anything Succubus-like in it really save for the colour of it, and there is no tail…
How exactly is this supposed to be Succubus like, which it isn't, nor Devil Girl like, which again it isn't…
I don't care for the look, the model I think as a lot to do with that, far too much mascara on her and it makes her look a lot less beautiful, never mind being sexy…
I just cannot see this being a choice for me personally… It's a mess, it has very little style, and, most of all…
The costume has nothing in it that you can use for a Succubus costume in the first place. So what's the point of buying this save for the need to buy the accessories to make it look, even slightly Devil Girlish?
Much too trashy for my liking, I can't see anything really positive in it either. I can't see a way to make it better, the overall look is just too much to overcome no matter what I can think of as a solution.
Zero pitchforks out of five for this mess…
Not touching it with a ten foot long pitchfork…
Tera