I have mentioned before that I really like Betty Page and her looks, but more so, some of the art that I have found of her as a Devil Girl or a Succubus…
I found a costume earlier in the year that I really loved, and I found another one… I just don't quite like it as much…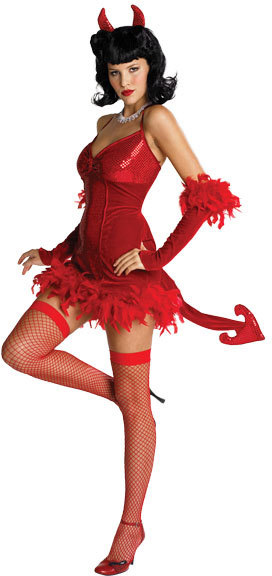 This is called the Devilette Pulp Costume, which I can understand sort of, it is after all a throwback to the pulp magazines of the 1950's so I can live with the name…
I just have problems with some other parts of it.
The costume comes with a velour dress with sequins and feather trim, a detachable tail, a pair of glovelettea, and a pair of glitter horns…
It does not come with the stockings or the shoes of course, and, oddly, it's not clear in the description if the Betty Page wig comes with the costume or not… Which is confusing…
It sells for about $60 US more or less on the web…
I like the ida of this a lot really, and there is really only one thing I hate about it and that is, of course, the tail… That really looks lousy and I wouldn't think of wearing that.
Otherwise, as something to wear to a 50's costume dance or something like that, I would seriously consider it. It's not too over the top and it looks nice enough really…
But it only really works if the wig comes with the costume and you buy a pair of stockings and shoes to match the outfit.
Otherwise?
I just don't like it all that much…
I suppose accessories in this case make the costume don't they…
I'll give it two and a half pitchforks out of five.
It's about average really, which is a shame, it's not close to the other Betty Page Devil Girl costume I found which rated a lot higher than this…
But that's because it was so much better.
Tera