I've never liked the idea of reversible costumes… Either do one idea well or the other, but don't make them two sides of the same idea…
Of course no one listens to me… and this is a case in point…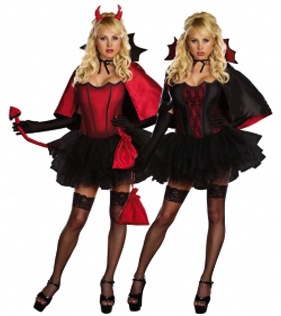 This awful thing is called the Devil's Night with a Bite costume, and that name alone makes me cringe…
It comes with a six piece reversible costume that has a reversible fully boned corset with scalloped edge neckline and lace inset details with removable/adjustable shoulder straps, a multi layer tutu skirt, a reversible cape and a headband with horns, removable devil tail, and a purse.
The thigh highs, gloves and shoes are not included…
And it sold originally for $85 Us, but you can find it for as little as $56 US online…
I hate this costume in so many ways… The tail is lousy, the horns are nothing special, the dress and corset do nothing for me either. The cape is a mistake as well and. finally, the purse looks more like a goody bag than anything else…
I find it interesting that not taking away the hose, the gloves and the shoes, makes this look worse and it's an example to me of why costumes should only be shown with what you actually get in the package and nothing more…
As a vampire costume, I can see it as being a reasonable one, if not too sexy… As a Devil Girl and it isn't a Succubi costume, it really isn't sexy enough nor is it something that really works as one…
I'll give this one pitchfork out of five.
I don't like it, I really don't, but as a "have to appear in public and not overly sexually" costume, I suppose that it works for someone…
Just not me…
Tera