I was looking through etsy.com again this week and found what I think is a lovely little Succubus pendant there…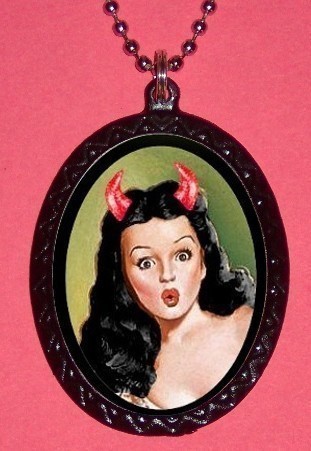 The artist that created it calls it a 50s Rockabilly Gal with Devil Horns. You can find it here and the artist's page as well here for those that are interested in it.
I like the retro look of the art and the design of the pendant and chain really works well with the art too which makes the entire piece even more lovely…
As well for only $7 US, it's a nice little accent piece too…
Now the artist has made many many pieces of art in pendants, necklaces, pill boxes, and ID/Cigarette cases  as well and they have all of their items sell for under $10 US which really is nice of them to do so…
I had a good look around on their site, but I couldn't find any other succubus or devil girl works that I could see. But they seem to like 50s images for their art and I think that they do that art so very well…
Do have a look!
Tera