And so yet another year of trying to find a decent Succubi costume begins…
So, let's start with something that isn't really a disaster, but I have so many questions about it…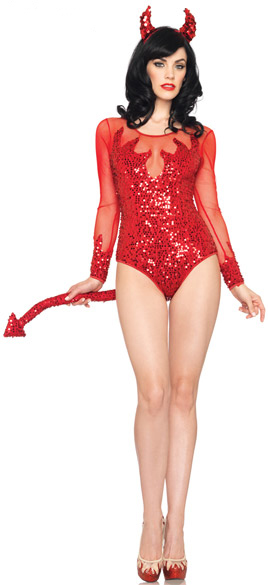 This is called the Rockin Red Devil Costume, and it comes with a two-piece costume with red sequins, a flame bodysuit with an attached tail and horn head band.
The shoes are not included as always…
It sells for $45 US on many sites on the web…
It's not close to the best costumes I have looked at here on the Tale. Setting that aside, it isn't the worst one either…
Yes the horns are lousy, I don't care for them much, but considering the outfit, the tail and the horns all together, I kind of like it actually…
The mesh bodysuit I think is a mistake, I would have liked it to be a bit heavier or, not have that at all and make sequinned cuffs instead…
I think this has possibilities if it had been thought out a bit more, but, as I have said, it's not the worst thing I've ever seen…
I'll give this two and a half pitchforks out of five.
Middle of the road really, but with some work, and the right shoes, this could be something really nice…
And I really like those shoes… a lot.
Tera