Some costume designs just make me shake my head in disbelief. What really gets to me are the costumes that you can, really, see that they put a lot of effort into the idea, but the end result is so over the top to be ridiculous…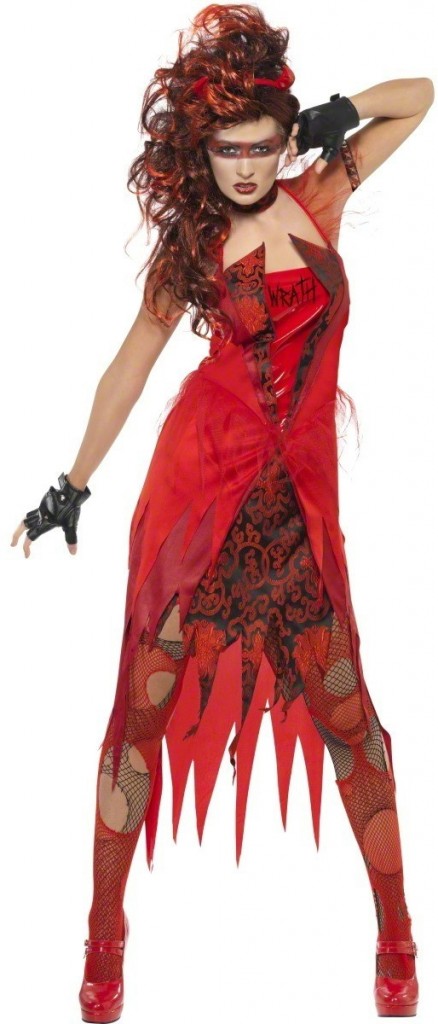 I mean… this is just far too much isn't it? Someone must have been having a lousy time of thinking of an idea and all that was left was this train wreck…
This disaster is called the Seven Deadly Sins Wrath costume and it comes with a long sleeve red dress with lace detail and a tattered hem, a red choker and a pair of Devil horns. And they actually wrote the word "Wrath" on the dress as well…
The gloves, the stockings and the shoes are not included… which is just as well as they don't help this outfit in the slightest.
It sells for about $50 US at various sites…
I wouldn't give this a dollar and I wouldn't buy it for one either…
It's ugly and trashy beyond words…
What really gets to me the most is that this costume appears, more often than not, when you search for Succubus or Devil Woman on many costume sites.
Why is that?
Anyway, setting that question aside, I can't see anything Succubi-like in this costume at all… It look more like a nightmare to me than anything else and that makes it a complete and utter waste of time, material and costume design.
Another zero out of five pitchforks for this mess…
Next week, I will have something good to share or there will be pitchforking…
Tera