Giving characters a history, a goal, and a reason for what they do is important in a story. I can't care about someone in a story, no matter how long it is, if there isn't a reason to care about them in the first place. Some authors understand this and do so…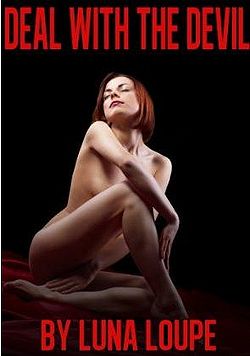 Title: Deal With The Devil: An Erotic Tale
Author: Luna Loupe
Publishing Date: February 10, 2012
Length: Novella
ASIN: B0077YYMVU
This story tells of:
Witch-in-training Lily has one more trial to complete before she can be reunited with the man she loves – but when what should've been a simple summoning ritual goes wrong, she finds herself facing three years of pent-up lust. Her heart tells her to turn down the sexy incubus, but her pussy says otherwise!
Lily has been away from her love for a long time… three long lonely years in which she has learned the lessons she needs to know to be a witch.
She does so for the good of her love, her life, and her community. Everything she does is for the right reasons, and the path she has been walking is almost done.
The last thing she must do is summon a demon and take a token from them. But she makes several mistakes which draw an Incubus to her. And she finds herself at his mercy, whatever that might turn out to be.
Lily is really well written as a character in this story. We learn so much about her, her past and her intended future. That's really important because when the Incubus appears you really are concerned about what will happen to her, and that makes you want to continue to read the story.
The Incubus is not quite the classic version of one, though he is harsh at times and forces Lily to do many things that are not the most pleasant to do. But then the rewards she is given makes them not seem quite as bad as they otherwise could have been.
The sex scenes are hot and well written, but some of the moments are a bit too violent for my liking, but that is a personal thing and has nothing to do with the author's writing. Their writing is very good, they described the desires, needs, and feelings of Lily really well and that made the story very much more enjoyable.
I also liked that not a lot of time was lost in the story to extraneous topics and events that had little nearing on this particular moment in Lily's life. The writer focused on the story, the real story, and that made this a joy to read…
But, as always, the story is a bit short for my liking… I would have liked to see what happens to Lily next, what the ramifications of her summoning an Incubus are, and what that might mean in the future…
Perhaps that will happen sometime…
I'll give it four pitchforks out of five.
Well written, lots of heat, lots of background… Just could have been a little longer…
Tera