And so the countdown to Halloween comes into the last stretch… and amazingly enough, there might be a couple of decent costumes before the moment arrives!
Well, I can hope… and who knows, it could happen?
And this costume is, mostly, a possible candidate I think…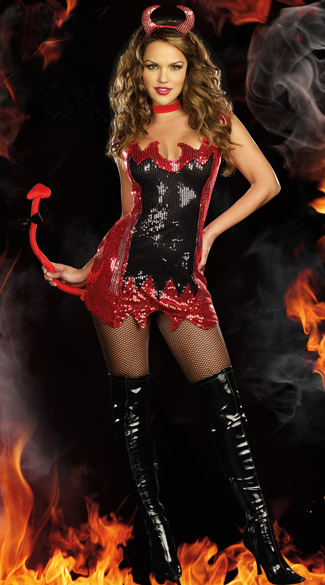 I mean, shiny is a good thing isn't it? And while the horns are the usual lousiness, there is some promise in this costume I think…
This is called, and I am not kidding, the Hell With That costume and it comes with a red and black sequin dress, the red choker, a removable tail for the dress, and sequin devil horn headband. The pantyhose and boots are not included.
And it sells for $54 US.
I don't think that's outrageous for this particular costume, and I have to admit that I kid of like the dress in a "shiny isn't it?" sort of way…
The choker and the tail I do not care for however. And the horns just don't seem to be red enough for my liking. It's probably the angle of them when the picture was taken, but they look very faded in spite of being sparkly…
I would have liked to have the hem of the dress a little bit lower and a bit less flame like if that was possible…
I don't like the stockings much either, it makes things look very trashy which is a bad thing in my mind.
I think some sheer hose and a pair of red and black slingback heels would have worked a lot better here, and if I do pick this for Halloween this year, I won't be wearing boots…
I'll give this three pitchforks out of five…
It might be slightly trashy looking, but, I do like the idea of the shiny black and red dress…
Mebby that's something I need to ponder a bit more with this costume as a template…
Tera