I don't mind glitter on a costume all that much really… It can look nice with the right costume, but with the wrong one… it just makes it so much worse…
Kind of like this one…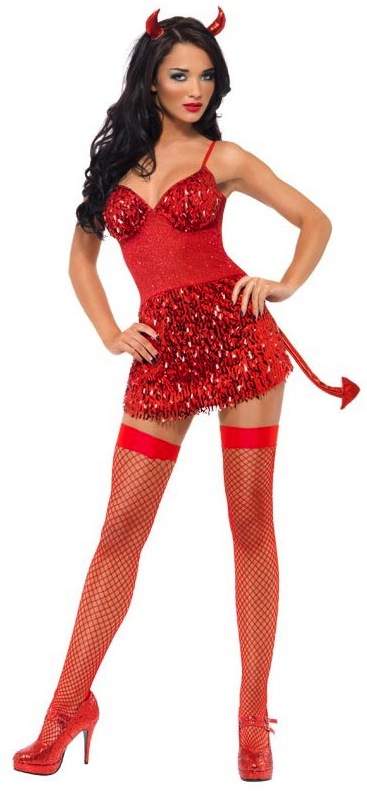 This is called the Glitter Fever Devil Costume and it comes with the red glitter dress, a matching tail and a pair of red devil horns.
The stockings and shoes are not included in the costume and it sells for $50 at various costume sites on the internet…
I have to admit that I am of two minds about this costume… On the one hand I like the horns more than I really should, but the tail I just hate. I like the glitter skirt on the dress, but I don't like the glitter on the top of it all that much…
I could see this as the basis for a Succubi Cheerleader outfit. Well the skirt and horns at least and with those stockings and shoes it would be close… A pair of matching pompoms would be really nice to complete the look as well I think…
Thinking about this a little further, I suppose a sort of "go-go" Succubi look might work here, but then I would have to find a good wig to go with that look…
Or cut my hair into a bob… or not… I do like my long hair after all…
But as it is?
I don't like it that much to consider buying it and wearing it for Halloween really…
There are ways to save this, which makes it more than it otherwise should be, but not quite enough.
I'll give it one pitchfork out of five.
I'll keep looking….
Tera