Time for yet another Devil Woman costume disaster… I can't really think of any other way to describe this mess other than a disaster…
At least the image isn't a large one…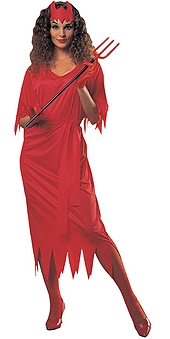 Ugly isn't it?
This is called, simply, Devil Woman Costume and it comes with the ugly headpiece, dress, and waist sash. The pitchfork and shoes are not included, not that it helps the look of this costume any…
It sold originally for $25, but it can be found for as little as $15.
And it's not even worth that honestly…
No tail as well, though if it had one, that wouldn't make any difference whatsoever to how much I cringe when I see this.
There's no possible way to make this sexy, seductive or, even a little bit Succubish… You can't turn something like this into something that it isn't from the beginning.
I wouldn't think of buying this, I wouldn't accept it if I was given money to take it either.
I can't understand why something like this would be sold in the first place either. You expect some sexy in a costume like this, but there isn't a hint of it. So why design this costume in such a way to make it look like you are wearing a paper bag?
No rating for this costume… It just doesn't exist.
Tera