Sparkly things are not always a good idea. Sparkly Succubi are one of those… and wearing this sparkly costume is not, at all, a good idea…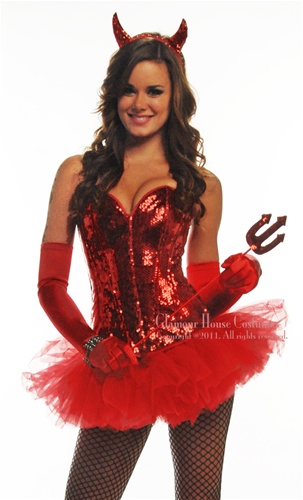 This is called the Sequin Devil Costume, which at least makes some sense looking at it…
This costume comes with a red sequin corset, red tutu skirt, a pair of devil horns, a tail and a pair of long red satin gloves.
The pitchfork, stockings, and jewelry the model is wearing are not included, and it sold originally for $120, but it can be found for as little as $90…
I've never liked tutu skirts, never will for various reasons, but the main one is that I just don't see them as being sexy… especially if you are trying to look like a Succubus.
The corset has some possibilities, but with that corset it just loses something in the end. Sparkly horns I never have thought much of either. And I have to assume the tail is sparkly as well, which means it looks lousy, so all in all, there isn't a thing to really like in this costume idea…
That's a shame because I think I could make something of the corset at least, but, honestly there are better ones that can be had that look so much better…
I'll give this a half pitchfork out of five.
Just not what I am looking for exactly…
Tera