Once again, I was on etsy.com looking about and I discovered an amazing set of Succubi Horns an artist has for sale there. She also has done some other related pieces of cosplay art, but I'll get to that in a little bit…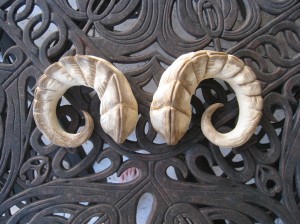 These are a set of Succubus Horns by KantiKane. I found them here on etsy.com and you can find the artist's page here as well on that site. I think that $85 US for a pair of these horns is extremely reasonable by any kind of measurement.
I would have to have them in red of course, but the artist offers that service. It's interesting that they sort of strap themselves to your head and more than they are made of clay and the artist indicates that they are quite shatterproof which is a blessing as well.
They also have a blog on Blogspot.com here which is a fascinating read for cosplayers and people that like to create costumes. She also is working on hooves as well, but I don't think I care for them much. Not who they look, but my own personal preference in that I don't care for hooves on Succubi.
While I do care for smaller horns myself, I think these are more a work of art than anything else. The artist also has these horns available, which are a bit smaller, but might be still too large… Still they are black, which matches my other self Tail's look… might be something to ponder in that…
Do visit their site won't you? So much lovely talent and art to be seen!
Tera