I would think that a costume called the Devil's Advocate would, at least, be something sexy and would, I would think, be something that would look every so much Succubi-like…
In this case, I don't think so…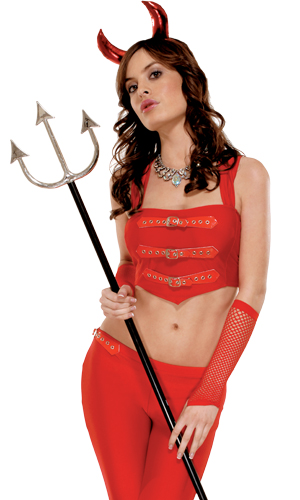 So, it's called the Devil's Advocate Costume and it comes with a strapped top that has three buckles on the front of it, and red hot pants. It also includes the horns and matching gloves. The pitchfork is not included, or shoes…
It sold originally for $72 US, but it can be found on sale for as little as $30 currently.
I hate this in a lot of ways…
The tops is ugly, the pants are nothing special, the gloves, if you can call them that, aren't anything to speak of either. I don't like the horns at all either.
I'll also say that the necklace the model is wearing looks tacky as well just so that I don't leave anything out that I don't like about this.
I can't see any way to make this costume better, and really I wouldn't want to start in the first place as it would be a lost cause honestly.
It's getting zero pitchforks out of five.
That's probably being generous, but I don't like using negative numbers in the costume ratings…
It skews the average you know.
Tera