Once again this week, I found a costume that has to be an alteration of another design, probably a ballerina from what I can think of anyway, and if that's true then the name of this costume is quite apt as the designer I think should have hell to pay for this idea…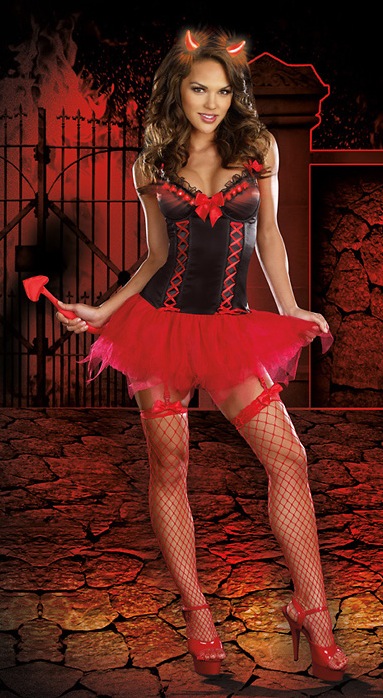 This costume is called Hell To Pay and it comes with a stretch knit corset styled dress that has attached illuminated flame lights along the neckline, a petticoat, garters and a removable tail. It also includes the light-up devil horn headband…
It even includes the batteries believe it or not, and yet it does not include the thigh highs or the shoes.
And it sells for $55 US.
First and foremost I hate light up anything on a costume as it takes tacky to a level that I haven't seen since the 70s to be honest. As such the light up horns are, once again, awful and I wouldn't be seen wearing them… period.
The tail isn't nice, the dress isn't anything wonderful and again, as it has lights on it, I just don't like this idea at all.
I don't see anything really Succubi-like in this design and, as I have said, I do think that this was originally a ballerina costume that wasn't selling well and they added accessories to it to make it more devilish, but not Succubish.
The model does help to make it look better than it is, but otherwise, if it was just there by itself, I don't think anyone would see the devil in the details with this idea…
I would have given it one and a half pitchforks out of five.
I would have, but those light-up horns?
It's getting a half-pitchfork out of five.
And that's being really generous I think…
Tera