Personally, if I find a costume with a lousy pair of horns, that's not so bad. I can change them to another set and that's fine. Other times the tail looks wrong or is ugly and that somewhat unforgivable…
Having both in one costume?
Sorry, no.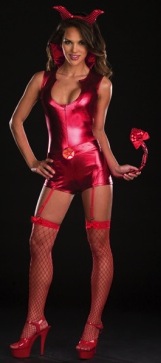 This is called the Hell Yeah Devil Costume, and it comes with a metallic stretch knit red romper, a red sequin skirt. a belt with pentagram on it, a horn headband, a removable tail, and adjustable garters.
The thigh-highs and shoes are not included and it sells for $55 US.
So first and foremost, the horns are the worst I have ever seen. They look more like bunny ears and that's tragic in a lot of ways. That tail is… well to put it mildly I would set it on fire two seconds after getting it out of the package. The skirt and garters are nothing special and the romper isn't that special either.
Okay, yes it is shiny and red, but otherwise it looks ugly. The collar is laughable as well and just looks wrong.
The belt is ugly, it only serves to make the entire outfit more trashy that it was in the first place as well. Another thing that gets burned to a crisp as soon as possible.
I can't say that I would consider this as a costume, honestly I just don't see spending $55 on this and getting so much trashiness when it arrives.
I'm giving this zero pitchforks out of five.
Just walk away from this one…
Tera