Sequins seem to be something that is always… well okay a lot… that Devil or Succubi costumes have. Mind you they do not always help. And this costume I think gets no help from them at all…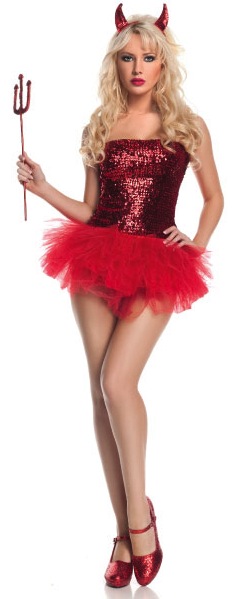 This is called the Sexy Sequins Devil Costume, for obvious reasons I think…
It comes with the sequinned top, the tutu, a horn headband, and the pitchfork that the model is holding…. The shoes are not, as seems to be the norm, not included…
You can find it on sale on the web for $60 US.
I'm going to say that I like the shoes, even if they don't come with the costume and that I do, in fact, like the horns… The rest of this is a disaster and I don't care for it at all…
It sort of looks like the manufacturer had some left-over ballerina costumes, tossed in some sparkles, horns and a pitchfork and called it a day.
Shameful really…
I can't see any real way to make this better other than to toss everything in the dust bin save the horns. Just really isn't that sexy or Succubish to me personally…
I might be picky and probably am to a point, but isn't the point of looking like a Succubus to be sexy and not… well if not comical then I'm not sure what else you could call this combination.
I'll give it one single pitchfork for the horns out of five.
And that's being more than kind I think…
Tera