When I see the words "Sexy Devil" I assume that there is something sexy about it, and, that there is a good deal of Devil, or I hope, Succubi in it. But the thing of it is, that's a rare thing and not a lot of costume designers manage to make that work.
Case in point…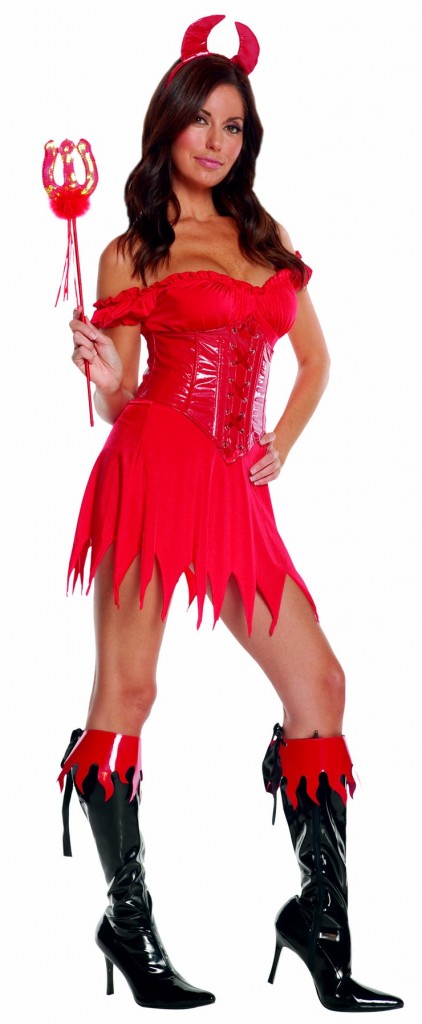 This is called the Sexy Devil Costume and it comes with the horns, the pitchfork and as well, the off the shoulder dress, a vinyl waist cincher and a tail which isn't visible in this picture.
It does not include the boots, which honestly is a shame because I think they would be about the only thing I would want from this costume.
It sells for $50 US on various costume sites on the web…
I hate the pitchfork and the horns from the moment I saw this. The horns are nothing special and, as seems to be the style now, they look really tacky to me.
The dress by itself is okay, but the hem on it bothers me as all of the dresses in this style do. The cincher sort of helps the look, but it has a lot of tacky in it which makes the entire look just go downhill quickly…
I have to admit that the boots I am interested in, but they aren't included in the costume. They are however available for $45 US…
I'll have to seriously consider them as an accessory for this Halloween…
So. taking the boots away, I really just can't see anything here that I would want to own, and I won't be. The boots are one my list and we'll see where that goes in the future…
This costume gets one pitchfork out of five, not including the boots…
I suppose as something to wear in public it would be, if not okay at least as being  "respectable"…
And I don't think that means a lot…
Tera