This week's costume to ponder isn't at least at the moment, a Succubus or Devil Girl really… But there is something about it that I like and I think, possibly, it can be one…
We'll see…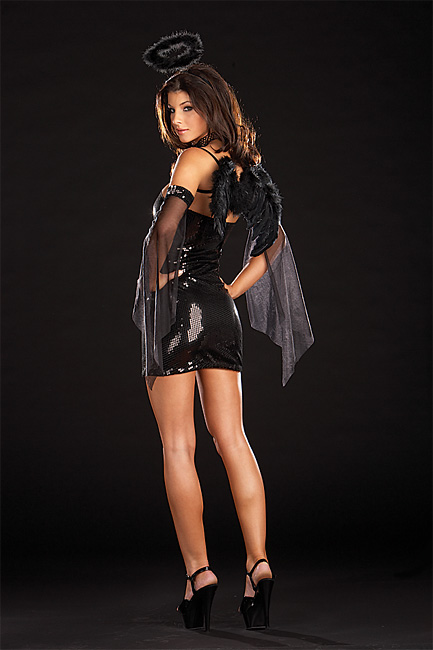 This is called the Angel of Darkness Costume, and it comes with a fully sequinned dress with removable, adjustable straps, a pair of draped sheer and sequin arm bands, black feather angel wings, a black marabou trim halo headband and a beaded necklace.
The shoes are not included of course and it sells for $65 US but it can be found on sale for as little as $40…
Of course my personal interest in this costume is taking it from an Angel to a Succubi… And I think that it wouldn't take all that much to manage really…
The halo of course must go as will the wings, they have no place on a Succubi costume really.. However I really like this dress and the arm bands as well…
I think just adding a pair of red horns and a red tail to this makes the contrast between the red and black stand out, and the look of the dress will add to the sexiness of the overall look…
I will have to find out if, by chance, this manufacturer didn't actually make this into a more devilish outfit as well…
It wouldn't take much to get there really…
I'll give it three pitchforks out of five.
It's a good place to start, and I think that the end result would be just about right…
Tera