It amazes me the number of costumes that I find that are so far from being sexy and are completely trashy. I haven't figured out just why that is exactly, it does bother me though. See, to me, you want a sexy costume not something that makes you look… well… slutty…
Like this one does.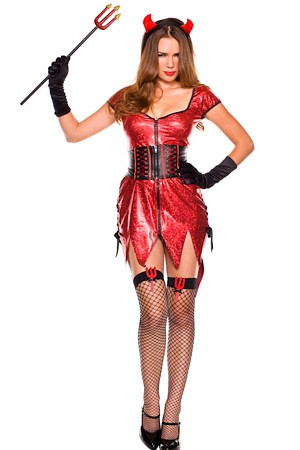 This… thing… is called the Red Diva Devil Costume. It comes with  a zip up front red dress, headpiece and black gloves.
The stockings, shoes, and pitchfork are not included.
It sells for $65 US, but can be found on the web for $45…
This is just… well awful is the nicest word I think I can use to describe it, but there are other ones that probably describe it better than that…
It… it's just a mess isn't it?
It's ugly, unflattering, the epitome of lousy really. And the stockings and shoes don't help it at all, even though I personally like the stockings a lot really as I have said elsewhere in the Tale…
The gloves do nothing for me either, and the horns are nothing special as well. It's not just that this is trashy, no it's that this is, I think, embarrassing to wear.
Zero pitchforks out of five.
There is no saving this. Leave it in the shipping box under a rug…
Tera