The one thing that any costume that has anything to do with Succubi must have is a little bit of sexiness in it. That's not that much to ask for is it?
Sometimes I wonder…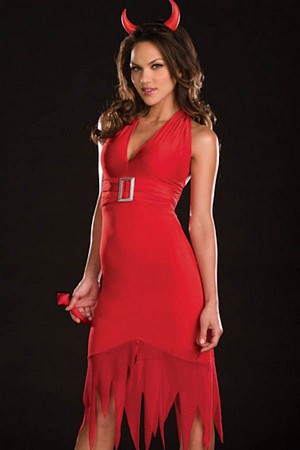 This is called the Devilish Ways Costume, and it comes with a red microfiber dress with long halter ties, an uneven hem and a wrap around belt with a gold buckle. There is an attached tail as well, and a devil horn headband.
It sells for $70 US, but can be found on sale for as little as $40 US.
The hem on this is a mistake. It could be a really nice red dress, but that hem and the change in material that goes with it ruins the look.
The tail is not that bad really, it's a bit small and short but not the worst thing I have ever seen. As well, the horns are not that bad either.
So there is some promise in this costume, but what to change in it?
Lose the belt, that's not needed really. The odd material at the hem needs to go and if the dress itself was lengthened slightly and was a bit more body hugging, then I think it would be a really nice "out in public" costume for Halloween…
But not like it is. Sorry, but the look just isn't right and it's not sexy like this…
I'll give it two pitchforks out of five.
Possibilities, but not enough to make it worth adding to the collection…
Tera