It strikes me that when you call someone a "Lady" you would expect some kind of class in them… Therefore, if a costume uses that word, shouldn't it be classy?
Not in this case.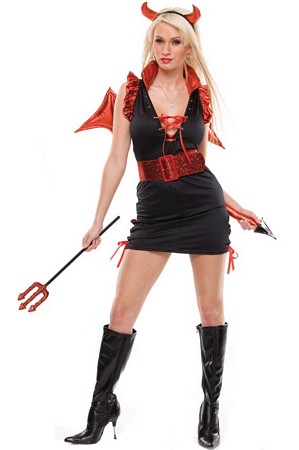 This… thing… is called Lady Lucifer and comes with a knit dress that has attached wings, a sparkle belt with attached tail, a pair of horns and a pitchfork. Boots not included.
This sells for $75, but you can find it on the web for around $50…
It's not even worth that honestly.
I'd call this trashy, but then I might be giving it a compliment really… The wings are silly, the tail is ugly. I mean, sparkly tail?
Someone is confusing things a lot I think with that idea…
The dress is not in the slightest sexy, it's ugly, the collar is ridiculous, the belt is so 70s it's not funny, and the frills on the shoulders?
Why?
Overall, it is a prime example of costumes being reused I think with different accessories as I can recall seeing a similar witch costume in my searches of costumes…
There isn't any means to make this better that I can see, and really I wouldn't buy this anyway…
Trashy, silly, and just hopeless…
A quarter pitchfork out of five.
Leave this on the shelf and keep looking…
Tera