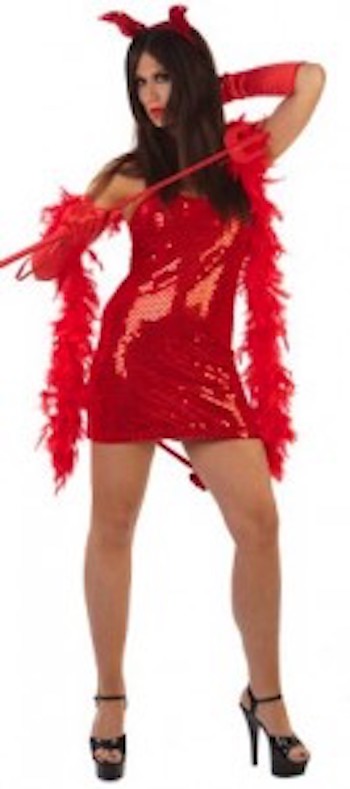 So if I understand the concept of this costume, a feather boa and a over the top shiny dress will mean that you are a Devil girl… Really?
I would have thought that there would be a bit more needed to be one…
This costume is called You Little Devil, and it comes with a sequinned front stretch knit dress with removable shoulder straps and attached devil tail, a pair of sequin devil horns, a feather boa and a necklace which isn't shown in the photograph of the costume.
Shoes, armlets and pitchfork not included and it sells for $100 US.
I don't like the horns, just ugly things really. The feather boa I do not understand why it would be part of this costume and the pitchfork isn't. Again, why show the model with, in this case armlets, that are not included with the costume?
Also, there is a tail, something rare in a costume it seems, but from what little can be seen of it, it's nothing special really…
The dress? While I like shiny dresses and costumes, I don't find it all that sexy or flattering. It also bothers me that the necklace, whatever it is, isn't shown either.
I also have a problem with this costing $100 when there are many better costumes that cost about the same and look so much better as well.
I'll give this one pitchfork out of five.
I'd keep the dress, trash the rest most likely, and use some of my shiny stuff to make it look a lot better…
Tera