Two things about costumes. One, sexy counts with Succubi, and two, the model that appears in the costume you are selling should look, if not happy, then somewhat pleased with the costume they are wearing…
Case in point…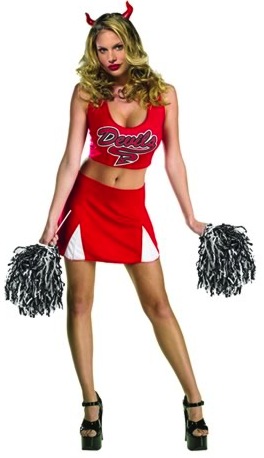 This is called Miss Down First, and I have the feeling that whichever company makes this costume their first language isn't English…
It comes with a cropped top with a "Devils" logo on it, a miniskirt, a pair of cheerleader pom-poms and a pair of red horns.
Shoes are not included and it sells for about $60 on several sites I found this on…
Honestly there wasn't a lot of imagination placed into this idea I think. And I also think that all they did was toss a pair of horns and slapped a logo onto a cheerleaders costume in order to see more of them.
I would have expected red pom-poms to match the costume, and they aren't. Also, again, no tail either which is a disappointment as well…
The model doesn't help in selling this either, she looks absolutely thrilled to be wearing the costume doesn't she?
The horns are plastic and look odd to me as well.
Overall, I just don't like this mainly because there is no imagination in it, it isn't that sexy, and really haven't cheerleader devils been done enough?
Quarter pitchfork out of five.
Just not in the running…
Tera