Time once again to stare in disbelief as two ideas wind up in a head on collision in the minds of costume designers and the end result isn't anything close to what either of them alone could have been…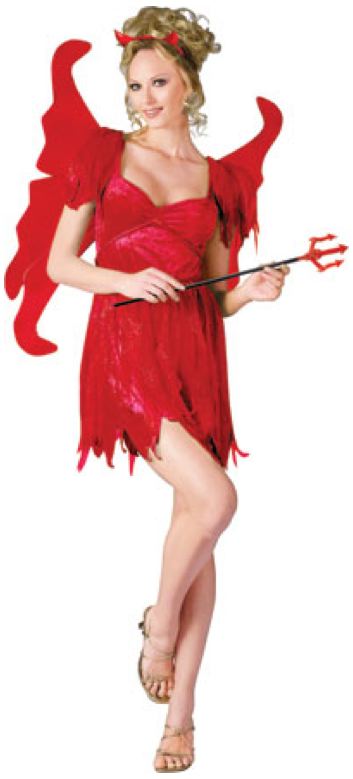 This costume is called the Sexy Devil Fairy Costume. Honestly I wouldn't have had the stomach for that name, but someone did…
This costume includes the red crushed panné dress with tattered sleeves, tattered hem and sheer overskirt, an attached rope belt, red wings, and the devil horns headpiece.
The pitchfork the model is holding and the shoes are not included… and it sells for $42 US, but it can be found for as little as $20 on special now and again.
I can't say that I like this costume really. It just seems very slipshod in what it looks like, the wings are just so overdone as to be comical as well.
The horns might be okay, but I won't hold my breath that they are at least. I can't help but look at this and think that someone had a extra run of nightgowns, cut the hems oddly and then tossed things at it until this idea struck them.
It's not a good succubus or demon girl, it's not a good fairy either. Regrettably it seems to be the worst of both worlds and that's a shame.
I can't see any way to make this better either. It just looks so unflattering and that's probably the hardest thing for me to understand.
This ii supposed to be a hot seller on one of the sites I found this costume on, but I can't honestly see how it could be unless it was the cheapest thing they had for sale. And that's not a good enough reason for it to be rated that based on sales of it alone.
I'll give it a quarter pitchfork out of five.
Lots better out there I am sure.
Very sure.
Tera