Why is it that the material that a costume is made of, especially those of Devil Girls or Succubi, has to be, occasionally, so thin that you might as well be nude?
Now that's not necessarily a bad thing, it can make things a lot of fun, but why would you take a reasonably nice sexy dress and then put a lousy tail on it?
The mind boggles…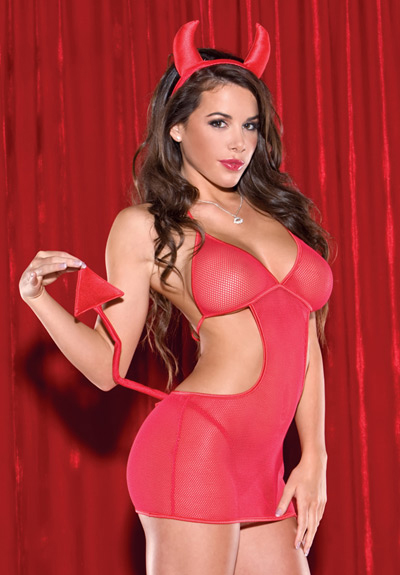 This is called the Ravishing Devil Fishnet Mini Dress. Which is a name that I hate, but they call it that.
It comes with the mini dress with an attached bikini top and tail. The horns are also included, but oddly the panties or thong or anything similar which would be nice to have… isn't.
It sells for $36 US.
The horns are much too large and look wrong on this model at least. It wouldn't be that hard to come up with something a little less silly honestly.
The tail is… well… Honestly I can't say just how disappointed I am in it really. It's so much of an afterthought to the dress that having it seems to be worthless really.
There are many, many better tails to be found that would have looked so much better than this one does…
I find myself wondering if it wouldn't have been better for the manufacturer not to include the bikini top as you will have to find a bottom or thong or something else anyway, so why not use one that you like or something more interesting?
With the right body shape, this dress would be deliciously Succubi-like, but as it is here, I don't honestly care for it all that much…
Two pitchforks out of five… Mind you, with some work this could well be a four, but I have to wonder if it really would be worth all of the effort…
Tera