I think that, for the most part, when you call something risque, then one would assume that in some way, no matter how small, it is. At least I would think so and I also think that most would agree with that idea…
So how is it, exactly, that this costume is called risque?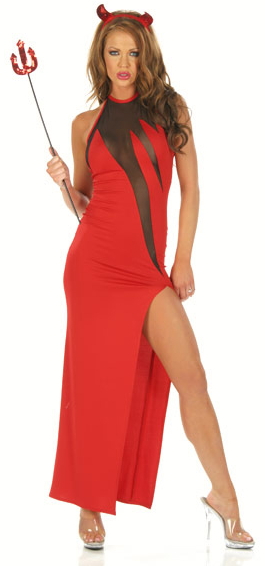 Because I can't see how it is in anyway, shape or form really…
This is called the Risque Devil Gown, it is a stretch micro and mesh dress. And that's about all that it is. The horns, pitchfork and shoes are not included with it.
And the dress sells for $92 US, although according to the site where I found it, the list price is $175…
And I can't see how that can possibly be really…
It's not that sexy to be honest, it doesn't have any real shape to it either. Oh it lets you show a little leg, but otherwise there is nothing risque in it whatsoever I think at least.
It also bothers me that they show this dress with accessories which aren't included with the dress in the first place.
Also, there is no tail, the horns are nothing really special and that pitchfork is laughable honestly…
Now, I don't particularly like this dress as you have probably noticed, but, for the sake of argument, it might be something to consider for a more tame and public event for Halloween. But if so, I think that there would need to be changes made in order to make it, if ever so slightly, risque…
But I really need to ponder that for a while to see how that could possibly work…
Two pitchforks out of five.
Why?
If all else fails, at least it will keep you warm on those cold Halloween nights… That has to be worth something right?
Tera