I thought that the seventies were well over and done with. I mean, I remember them and a lot of the fashions from that time really should stay there…
But somehow this one escaped…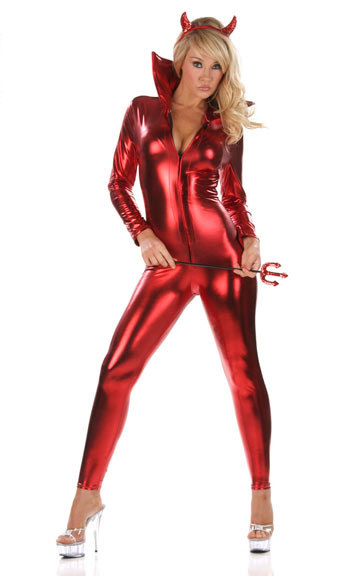 This is called the Sultry Devil Jumpsuit… Make of that what you will before I do…
It comes with a lycra jumpsuit, the matching devil horns and a pitchfork. The shoes are once again not included. It sells for, and this I cannot believe, $152 US.
Why?
What does this costume have that makes it worth that much? It's not the horns, it's certainly not the pitchfork. Neither of those are worth more than ten dollars if that…
So that leaves the jumpsuit and while that being made of lycra could well be that much, I don't see how other than the colour of it, that it is Succubus or Devil Girl like at all.
Oh, and once again, no tail.
Anyway, getting past that, I don't see why anyone would want to dress in something that went out of style in the seventies anyway…
There are better ideas out there than this and I really hope that I come across one soon…
One single pitchfork out of five…
I suppose I could wear it while jogging or something…
Just ignore my innocent look mmmmk?
Tera