It strikes me that sometimes what a costume is made of, in some way, is supposed to define what a costume is… What's a bit more telling is how the more complicated the name of the costume, the less thrilling the costume really is…
Like this…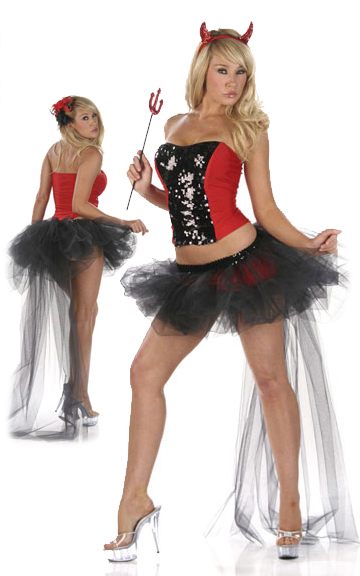 It is called the Hot Devil Four Piece Bustle Tulle Skirt Set. Which to me is a long drawn out name that doesn't really add to what the costume is…
It comes with the glazed lycra and stretch sequin bustier, a bustle tulle skirt, a  devil head band and a pitchfork.
And it sells for, yes, $137 US, shoes not included.
Honestly it looks like someone took a ballerina costume, changed the colour of it and then tossed in a pair of horns and a pitchfork, then called it a day.
No tail of course, why would they include one? It's only supposed to be a devil woman themed costume right?
Notice the smaller image of the model in the background? I see no horns on that image and it reinforces my belief that this is just a "one costume fits all" creation.
It's a shame really…
There is a certain amount of cute in this. Not much of it, but it would be a start if the overall look of it was a bit more sexy and a lot more thought out to have something in it that is, specifically, devil woman like.
And the horns and pitchfork do not count in that.
One half of one pitchfork out of five.
Still looking…
Tera