Welcome to the first costume on the Tale for 2012…
I just wish it was a better one than this one…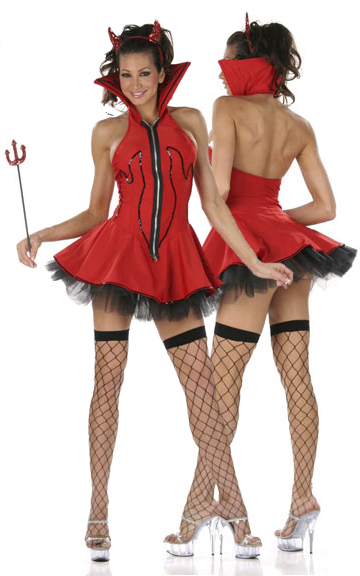 This is called the Classic Devil Glazed Dress. The name alone makes me cringe and the costume isn't that much better really…
It comes with a  glazed lycra rhinestone dress with a zippered front, a pair of devil horns and a pitchfork.
It sells for $137 US. Fishnets and shoes not included.
I suppose there is something good in this costume, but I'll be darned if I can find it.
Son't like the sparkly horns, which are supposed to math the dress… I fail to see how they do exactly. The collar looks lousy, the zipper on the front of the dress honestly ruins what could have been something reasonably good.
I think that the dress looks too heavy in the material they used, the pattern on it only serves to point out that zipper on the front, as if you wouldn't be focused on it over the rest of the costume…
Overall I just don't like this at all.
So we begin the year with yet another zero out of five pitchforks for a costume…
I hope that there will be fewer of them…
Tera