For the last Devil costume of 2011, I thought that I would share something that I cannot believe is a Devil costume in any real way…
But I suppose that you can call anything, anything you want to…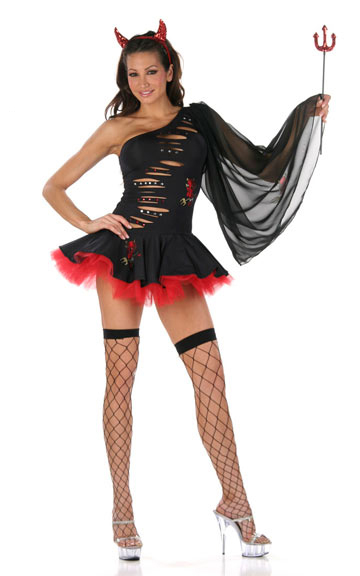 This is called the Trendy Devil Zipper Dress, and I hated it from the moment I saw it…
Regardless of that, it comes with a stretch micro rhinestones dress, a pair of devil horns and a pitchfork.
It sells for $$137 US.
And I can't see why it sells for that nor why anyone would want to spend their money on something like this.
Oh, and the shoes and fishnets are not included, but they add nothing to the look anyway so that's not that important to be honest…
I've shared trashy things before on the Tale, but this has to be just about the worst thing I have ever found as a Devil costume…
The addition of the devil horns I think was just to make this palatable as one of the devil themed costumes that are available on the site I found this on…
But really, this isn't anything like a devil woman costume at all.
I really hate the torn appearance that it has on the front, which adds so much to the ugh factor in this design that I can't think of anything that can save this one…
Another zero pitchforks out of five.
And that's 2011… stay tuned for 2012's disasters coming soon…
Tera