Once again the pictures of a costume do not reflect exactly what someone is offering as a Succubus costume… Okay, I admit that they aren't calling it a Succubus, but if they would have worked on it a little bit more that might have, just, had something that would be close…
But they didn't really…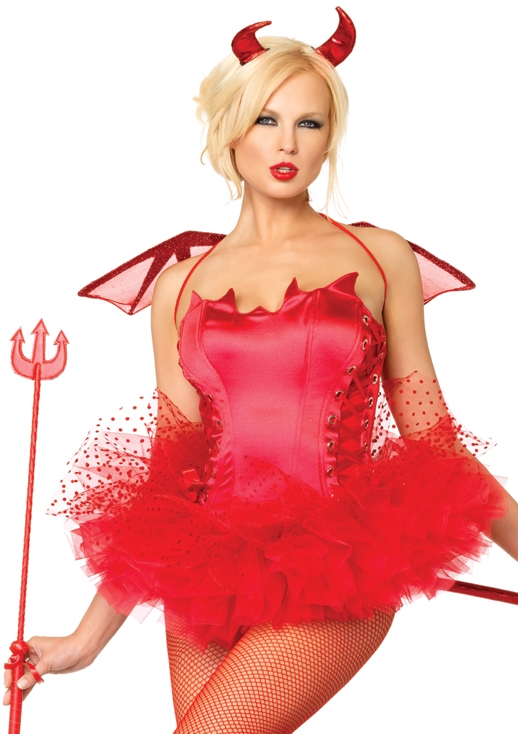 This is called the Sinful Devil Bustier Costume and originally sold for $90 US, but you can easily find it for about $45 at most costume sites on the web…
The costume comes with the bustier made of soft padded stretch satin  with support boning, satin ribbon detail on the sides and a fiery flame bodice accent…
And that's all.
No horns, no tail, no wings, no pitchfork, no fishnets, and no tutu either. So once again the image does not reflect what the costume provides.
That is a shame, because the overall look with the accessories here, save for the wings and the sad looking pitchfork, isn't all that bad I think.
I am, of course, ignoring the slightly lopsided horns she is wearing of course when I say that…
Still it is cute combination of different things, which I calculated would cost altogether about $125 US if you purchased them all… Disappointing because there are other, better costumes that include just about everything that you would need for a Succubus costume including the shoes for less than that…
And you would look Succubish too…
I'll give the entire look three pitchforks out of five.
The bustier alone? One… Possibly two but that's all…
Tera