The costume this week is another example of using a name that infers more to a costume than I think is there really…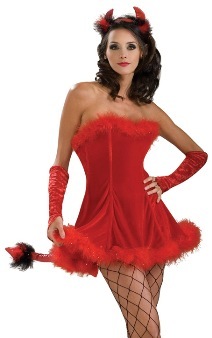 This costume is called the Sexy Devil Dress, yes several manufacturers have used that name to various aspects of success, but I'll talk about this one I promise…
It comes with the red one piece dress, an attached tail, the horns and the glovelets the model is wearing here.
The fishnets and shoes are not part of the costume and it sells for $35 US.
I don't think a lot of this idea. The black fuzz on the tail and on the horns looks wrong to me, the glovelets are nothing special and the dress itself, while somewhat sexyish, also does little for me.
I do give points to the model for trying her best to make this look sexy at least however…
I think that with a better set of horns and tail this would look better by far, I would probably go with the fishnets as they compliment the costume well, but the glovelets would be left at home…
I never have understood what is the point to wearing something on your arms that wants to fall off all of the time when you walk?
I'll give this two pitchforks out of five.
It has some positives, it's a good start but it could be a lot better…
Tera