Some Succubus costumes… well… most of them, have a flaw or two that make them less than they could be. Horns are awful, the dress looks lousy, there isn't a tail…
And then there are things like this.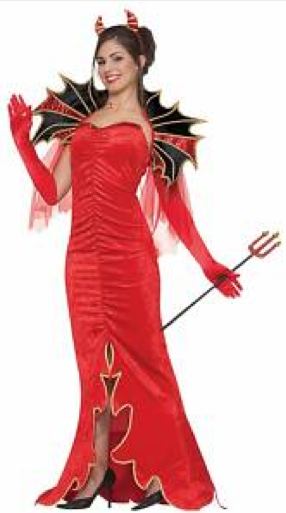 This is called the Devil by Night costume and comes with Dress, headband with horns, and collar with attached sheer cape.
The gloves, pitchfork and shoes are not included and the costume sells for about $40 US.
I hate the horns. They look like candy canes in a way and just so wrong in so many ways that I can't stand it. The cape does nothing for me nor does the collar on it. It looks like there is a mop around her neck, so why do that in the first place?
The other thing that bothers me in this, besides the lack of a tail, but this dress does not lend itself to one so I'll leave that aside, is that the accessories make it look better.
Without the gloves or the shoes, the overall look is not that exciting really and that isn't quite right. I know that mention is given that you don't get the gloves with the costume, which is fine, but the sellers should give the option of buying them I think.
So, I'll give this a single pitchfork out of five…
Nothing really special, it's nothing without the accessories, so there isn't a lot to like about this…
Especially the horns.
Yuck.
Tera