I noticed a costume this week that is really quite well done, if not something that I would particularly think about wearing as a Succubus costume… But for some Succubi with the right body shape and style, I think that it would work really well for them…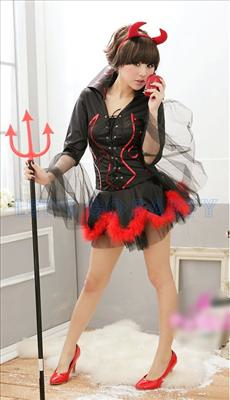 This is described as being a Sexy Black Devil Dress and comes with the petticoat dress which has sequin flame detail and a high collar neck, the skirt with red fur trim and the red horns. The pitchfork and shoes are not included in the package.
It sells for $35 US.
It's quite good I think in its look and how it was made by the manufacturer. The added details in the fur trim and the piping doesn't overwhelm the look, nor does the frills really do much to kill the look either…
If you are petite, i think this would work really well as a Succubus or Devil Girl costume, but I would try to find a better pitchfork than the one they show in the image…
Once again there is no tail. Shame really as I think one would work well with this costume and as always I am biased to Succubi costumes having one…
I'll give this costume four pitchforks out of five.
Really one of the better costumes I have seen and it wouldn't take a lot to make it really something special…
Tera