It's a bit past Halloween, but it's never too late to start looking for another Succubus costume I think… Now to start this year's search, I found something that honestly isn't that bad and on a good day I might actually wear it…
Probably…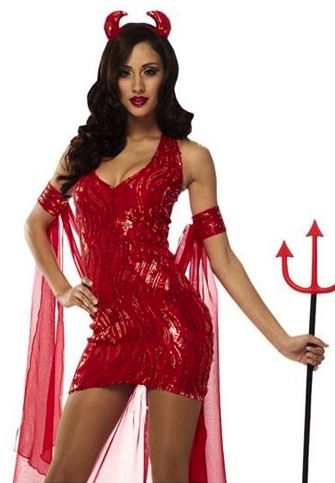 This is called the She Devil Mini Dress Costume and while there is a bit of it that I don't think much of, overall it's not that bad really…
The costume comes with the red ress, a mesh cape with attached armbands and the horn headband. The pitchfork the model is holding and shoes are not included in the package.
It's missing a tail of course, that's not really a surprise by now for those that read these reviews on the Tale.
Besides that, I don't think a lot of the cape and armbands, I wouldn't use them myself as they seem to be a bit too tacky for my tastes.
There is something about the dress that I like, I can't quite put my finger on what that is, but I like it more than I thought I would at first.
The horns are mostly okay, that's because they match the dress and, of course, the horns should match the outfit I think…
I think that a pair of red stripper heels with the same look as this dress would really look good. And long red gloves would finish things off perfectly too…
I'll give it three pitchforks out of five.
Mostly because I think that this would be sexy enough and shiny enough to be a good look for a Succubi…
Tera