If all else fails, sometimes you have to, or are pointed in the direction of, finding a Succubus costume for Halloween that you pick because you have to walk a tightrope. You either go a little too sexy, and have to deal with the somewhat tipsy people at the office party…
Yes, I have, thanks for asking…
Or you go with something that you cringe inside knowing that you would rather take a lighter to the costume than wear it…
So, since this year Halloween is on a weekday, and we're not going to have that much of a party this year, I've decided one this costume for this year…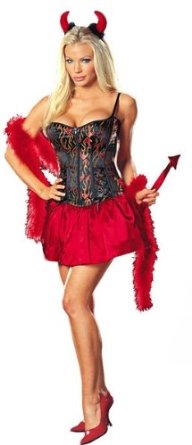 Don't worry there are a lot of changes that I made to it…
This is called the Sexy Devil DreamGirl costume and comes with the horns, tail, boa abd dress but not the heels.
I found it for $26, which was reasonable enough.
So, what did I change in it?
The boa was tossed, the tail went too. The horns were too tacky and so they were in the trash moments after getting this home…
However…
The dress I thought looked nice, and so that stayed, otherwise there wouldn't be anything of it left to use of course…
I used one of my better horn sets and added a tail that I had from about three Halloweens ago that looked a lot better than the short thing they provided with this one.
I decided on black heels instead of red, that matched the dress better I thought and otherwise I had my custom-made pitchfork as my accessory for this…
The six-foot silver one with a red now tied onto it below the spines of the pitchfork…
The one advantage to this costume I find is that you have just a bit of sexy to capture attention, but not so much that you would get other more… crass things happening at the party…
But we will see if I am right soon won't we?
I'm giving this costume overall two pitchforks out of five.
But as a "out in public" costume, once the more tacky items are removed, I think it is slightly better than that…
Tera