Delightful to me means that whatever it is, it brings even the slightest amount of joy in it. Now a lot of Succubus or Devil Girl costumes don't quite have that in them…
Not even if it is in their name…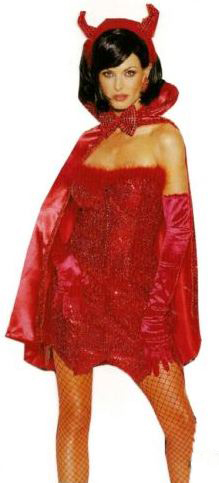 This is called the Devilish Delightful Costume. I'm sorry but I can't see how it can be called that, but setting that aside for the moment…
This costume comes with a sequined strapless zip front dress with a lace-up back, a satin sequined cape, the red horns and a bow tie.
The fishnet pantyhose, and long gloves are not included in the costume package.
It sells for about $33 US on various sites including eBay…
It's another example of buyer beware to be honest. The image shows more than you get and if you don't read the information carefully you might expect to receive the gloves as they match the costume.
I really wish that they wouldn't do that…
The cape I think really adds nothing to the overall look. It's more of an after thought than anything else. The bow tie is the same regretfully, and I have to say that the horns look to be a little bit flimsy…
Horns should never be flimsy.
Oh, and no tail once again. I wonder if it will ever come to the attention of costume designers that in most cases you do need to add a tail to a Succubus costume for it to look right…
Well that an of course a bit more thought to the "sexy" in Succubi…
I'm going to give this two pitchforks out of five.
I kind of like the "Little Red Riding Hood" vibe of the costume. Might be something for handing out candies at the door, but that's about it I think honestly…
Tera