It strikes me that some costume designers get hooked on the concept of a Devil Woman or Succubus costume in that they have a pair of horns and figure that anything added to that will make the costume "Succubus-like".
This is not one of those, if there ever was such a possibility…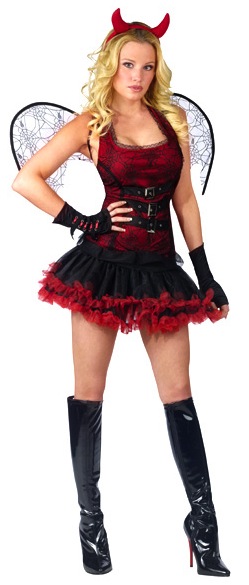 This is called the Night Wing Devil Costume, which makes some sense even if the entire thing looks just wrong.
It comes with a bodice with buckles in the front and a drop waist. A red and black ruffle tutu and a pair of mesh glovelettes, a devil horn headband and spider web wings.
The boots are not included.
The costume sells for about $60 US.
And it does nothing for me.
The wings don;t make a lot of sense for the costume. The gloves add nothing to it, the tutu is ugly, but most of all…
There is no tail.
Why have a costume like this without a tail? I know that it wouldn't help the look of this very much, but it is an obvious omission.
Not sure if I should be thankful for that or not really.
It looks as if, I think anyway, that this might be another example of a generic costume having horns attached to it in order to sell it as a Devil Woman costume.
I can understand that, it would be a relatively inexpensive thing for the manufacturer to do, but really does it make the concept any better?
I don't think it does.
Still, there is some use in this sort of costume for those more tame parties that do happen on Halloween…
Regardless, this gets a quarter pitchfork out of five.
Leaving it on the shelf and moving on…
Tera