I found another speedpainting of the Succubus Morrigan Aensland on YouTube. One that I think makes her look really nice and not so over the top as some of the images I have found of her.
And in case the embedding fails:
http://www.youtube.com/watch?v=s7RMxNfjENk
And as well an image of the completed work: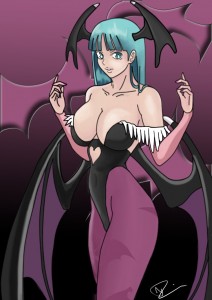 While I found this work originally on YouTube, the artist, calling themselves Mdavis2k8, has a page on DeviantArt which you can find here, and as well this work on this page too.
I like this work mainly because it adds to the allure of Morrigan's form and doesn't make her look so over the top as a lot of other images of her do. Yes, Succubi are supposed to be more sexualized, but that doesn't mean that they have to be crass looking.
This image I think is a good example of Morrigan seen in a good, sexy light. That is something very important really. The shading of her skin, tones and all is excellent, and the wings are really some of the best I have come across of her. I also like the background having echos of her wings as well.
Lovely and well done work indeed!
The artist has several other examples of Morrigan on their DeviantArt site, so have a look and also see the other interesting pieces of art that they have shared!
Tera