Okay, maybe it's not the 70's, but it's really really darn close to it when you look at it. Which brings up the question of why would a costume designer fall back into those ideas?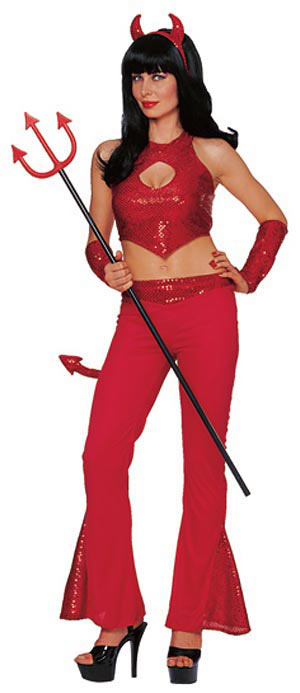 This is called the Devil Woman Halloween Costume, which is a rather blasé name for a costume that is about the same I think in excitement.
It comes with the red sequin top, sequin trim pants that have an attached tail, arm guards and the horns headpiece.
The shoes are not included in the package of course as well as the pitchfork the model is holding…
It sells for $36 US.
I just don't know about this, I mean as something to answer the door at Halloween it's okay, but otherwise it leaves me cold really.
I'l admit that I like the sparkly horns, but otherwise the overwhelming feeling of the seventies in this succubus costume just makes me cringe… a lot.
I will also say that the pants are, a little bit, tempting if for no other reason than to mix and match it with another costume design to make that look better.
Probably too much to hope, but it might be possible with some work.
I'll give this one and a half pitchforks out of five.
As a "tame" costume for a "tame" Halloween party I'm fairly sure this would work alright, but otherwise it's not quite sexy enough for my tastes…
Still looking…
Tera