Names do not a Succubus costume make. It does not matter what combinations of words you use to make one sound better if it does not look the part.
Case in point.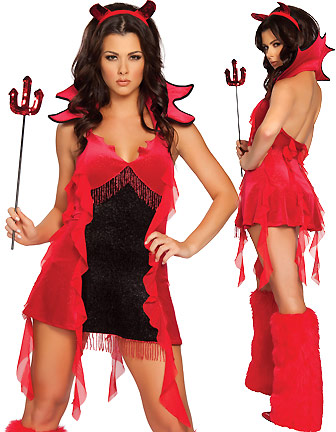 This is called the Hell Raiser costume and comes with the black and red minidress covered in beads, and the sequin horns and pitchfork.
The fur boot covers are not included and the costume sells for $80 US.
And to be honest I can't see how it could be worth that much.
The dress part of the costume is really awful with all of that material hanging off of it. Why is it that this seems to be a trend for Devilish or Succubus costumes now that they have to look like they are coming apart at the seams?
There isn't much here that I like. The collar is wrong, this is a devil costume not a vampire one, so why a collar like that here?
The horns are glittery, but why would you have ones like that on a costume that doesn't really seem to have anything on it that is glittery in the first place?
I'll pass on this one.
One quarter pitchfork out of five.
Tera