I understand that some costume designers add sparkles and other things to make a costume more… interesting. But at some point the stuff they add cannot really make that much of a difference to what is, really, something awful as a Succubus costume.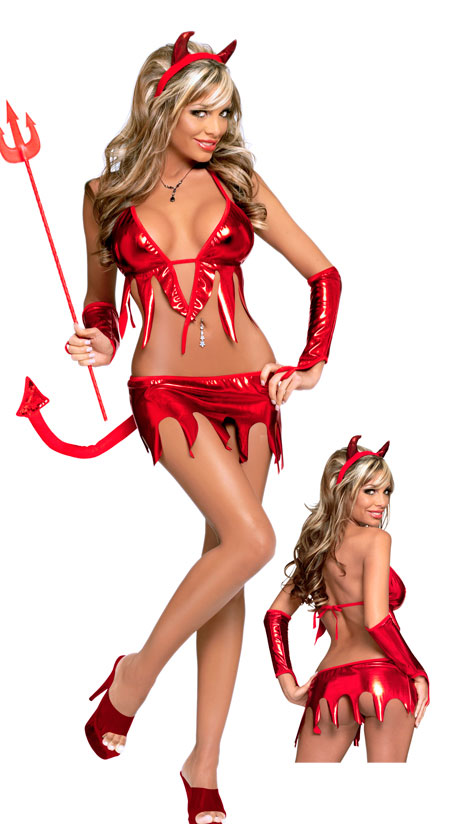 This is sold as the Shimmering Sexy Devil Costume. It comes with the halter crop top and mini skirt, both in a shimmering red fabric with a red tail attached to the miniskirt…
And that's all.
The armlettes, the pitchfork and the shoes are not included in the package.
The costume sells for about $40 US in many costume shops on the internet.
I don't like this for a lot of reasons. The tail first of all. It looks lousy and at least the one in the picture here doesn't seem to match the outfit the model is wearing.
I'm also surprised that they didn't find a pair of matching shoes for the model to wear as they stick out like a sore thumb honestly being a completely different look than the rest of her outfit. They have armlettes that match, but the shoes don't?
That seems very sloppy to me.
The pitchfork here does nothing for me either.
The horns I will I admit like a bit, but they alone are not enough to save this mistake of a costume really.
And the costume itself?
Why is it that it has to have all of that material hanging down below the hem of the dress? If makes it look unfinished and the top doesn't need them either really.
So much wrong, so little right.
A quarter pitchfork out of five for this.
Won't be on my list…
Tera