I found yet another costume that is attempting to be the image of a Succubus, and while they did take a good try at it, there is a bit of a problem with it…
And that's a shame really…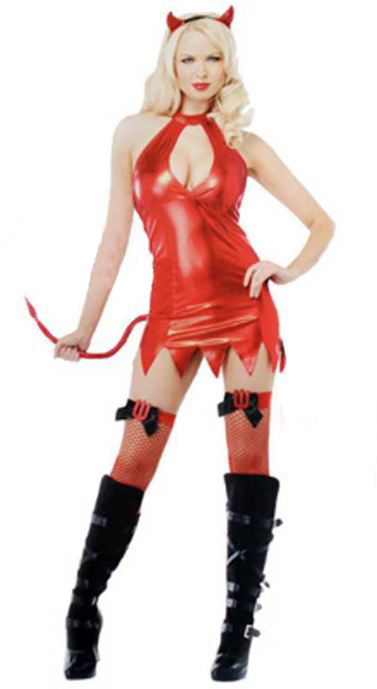 So this is called the Sexy Devil Costume, yes there have been many of those, but what's another one right?
The first problem I have with it is that the image you see of it is a bit misleading.
The costume comes with the shiny devil dress with the attached tail and the horns the model is wearing…
And that's all. No stockings or boots or anything else is included.
Oh and it sells for around $30 US.
Now when I first saw this costume, I thought that the overall look wasn't too horrible. The boots and stockings are a nice contrast to the dress, and I could almost live with the look if it was all I could work with…
I would have to do something with that hem of the dress, I still do not understand why they have to cut the dresses like that. The tail is so-so, but at least it's not a short one, so I'd keep that. The horns are alright as well.
It might be a good idea to add some shiny gloves to it as well, would be an interesting look I think as well…
Probably the one things that sells this is the look of the model and her pose, which I think make her look really nice overall, and is probably the one thing that sells this costume over anything else…
I'll give this one pitchfork out of five.
Not a zero, but not any better…
And there is that out there I think…
Tera