Are Succubi devious? It's an interesting question I suppose, but the bigger question is what exactly does that word have to do with this costume?
Or is that just describing the hidden flaws?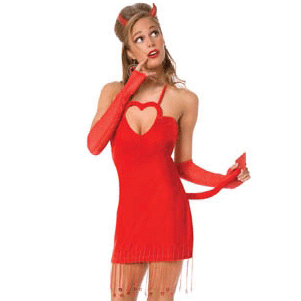 This costume is called the Devious Devil costume and comes with the dress, the tail it attached to it, the arm gauntlets and the horns headband.
It sells for about $26.
I hate the tassels on the hem of the dress. They just seem so out of place and look so bad that I would have to trim them away moments after opening the package. The gauntlets are okay, the horns are not that bad I think…
But the dress just can do without those tassels!
I think it is amazing that whomever designed this dress thought that they would add something to it. I think that the heart-like strapping is cute and sexy and matching that with the gauntlets and horns looks really nice. But the tail will have to go. It's one of those little short ones that I do so very much dislike…
I would be really quite happy to wear this, after modifying the dress, to the office Halloween party this year. It's just sexy enough and cute enough that I think it would really work nicely…
But I'll know  for sure when it arrives…
Giving this three out of four pitchforks for the moment, but that might change if it turns out to be what I hope it is…
Tera