Of course regular readers of the Tale will know of my long and painful search for Succubus costumes and how lousy that has been for me.
Recently a reader of the Tale sent me a link to Amazon on which there was an interesting option to consider as part of, or for the right reasons, the only thing to wear as a Succubus costume.
Now it's not appearing on the usual day because it's not really a costume on it's own, but still it does deserve some thoughts over…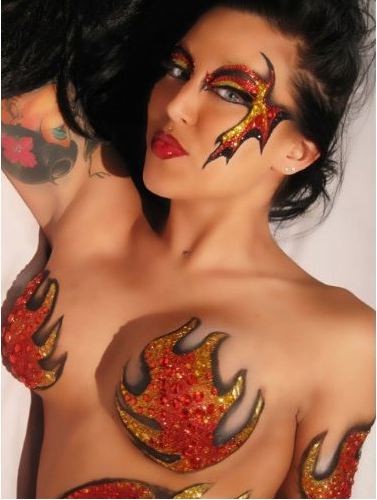 These are simply a series of stickers that you place over different bits of your body. Now while they are advertised as being for strippers and dancers, I think that they could be very interesting with the right costume, or at least small pieces of one.
The only problem is that each type of sticker is sold separately from the others. So you have to purchase three sets or more to get something useful as an overall look.
And the names of these stickers are: TaTa Flames, Body Flames and Face Flames.
Each one of these sells for about $20 US on Amazon but has a list price of about $40.
That seems a bit steep for what you get to me at least, though they are sold with the note the stickiness is very strong so that you don't have to worry about them falling off…
But here's the thing…
I like the look, it's sexy and I have always liked that, but the question that I have is how… sticky… are they? Putting them on some body parts and pulling might not be that much fun… But they do note that the stickers are reusable, which is a good thing, those you have to use spirit gum to do that and I'm not quite that confident in the ability of it to hold on properly.
Still, if I was wearing them for my eternal, I think I would add a pair of sparkly horns, and a wrap around skirt with something like red go-go boots…
Oh come now, don't you like that would look really Succubus and seductive?
The company has various other themes for their stickers and you can find the page on Amazon.com with this item here.
Tera