Once again, I have found a Succubus costume that uses the name of it to try and be more Succubus-like…. and fails really to be honest about it…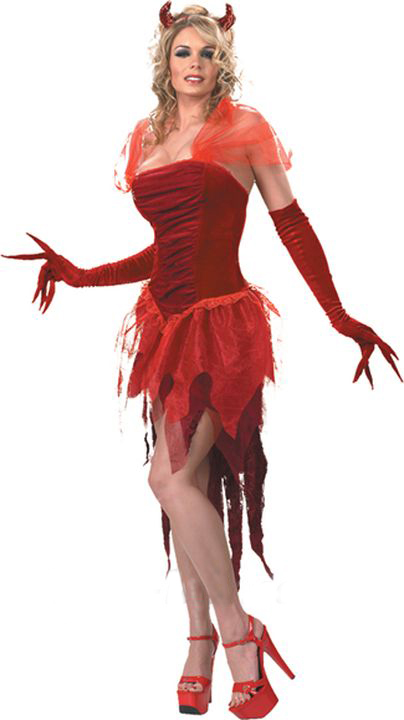 This is called the Demonia Costume, for reasons that are the creator's I suppose. While it has a devilish name, it not what I would call Succubus enough really…
The costume comes with: a halter style, scalloped dress with sheer over the shoulder accents, matching elbow length, long finger gloves and a sequin devil horn headpiece. The shoes are not part of the costume.
It sells for about $50 US at most places on the internet.
So many things I don't like about this, but the main one has to be the gloves. I don't quite understand what that has to do with anything Succubish here, nor can I wrap my mind around why you would want to wear something like that as honestly trying to hold onto anything would be such a pain. I would think that the gloves would be off in minutes at any party you went to, so why have them in the first place?
The dress doesn't do a lot for me and the sheer material adds nothing to the costume. The raggedness of the helm of the dress makes it look trashy not sexy as well. The horns are really an afterthought and not a lot more than that. So really all in all there isn't much here that I have any desire to be wearing…
I could give this a zero, but it's not quite worthy of that if for no other reason that for some the trashiness could be a plus… Not for me however…
A quarter pitchfork out of five for this.
I wouldn't buy it, but for some people it might work…
Tera